Crew stuck on International Space Station 'marooned', says Chris Hadfield
Comments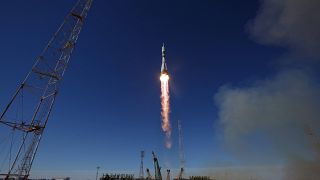 Three people currently on board the international space station are "essentially marooned" on the ship for a while, renowned Canadian astronaut Chris Hadfield has told Euronews.
The Soyuz spacecraft made an emergency landing on Thursday in Kazakhstan after its booster rockets failed in mid-air while on its way to the International Space Station.
The two astronauts on board the Soyuz will spend the night in a hospital, while Interfax cited an unnamed source as saying the crew in the International Space Station, one woman and two men,  could be stuck there until early January.
Hadfield said the crew stuck in space may have to wait "quite a while" until they are rescued, as a new crew would have to be sent up once the issues with the Soyuz spacecraft are fixed.
"Others (ships) took over two years" to fix, but Hadfield said it should not take as long as that.
The experienced Canadian astronaut, who has been on board the Soyuz spaceship before, said the two astronauts crashing back down to Earth would have felt "as if you threw a stone into a pond. It floats for a while and then it hits the thickness of the water and then you're really decelerated. They would have felt something in the order of six or seven times their weight. So they'll be crushed but that's how most space flights go".
Hadfield added they will, mentally, be feeling "angry and disappointed they didn't get to go into space today".
He also hailed the astronauts: "If you listen to the voices of the crew, especially Alexi the commander, he doesn't sound terrified at all. In fact, he's calm, trained, matter of fact (in) dealing with the problem."