Trump calls Stormy Daniels 'horseface' after judge dismisses her suit
Comments
By Adam Edelman with NBC News Politics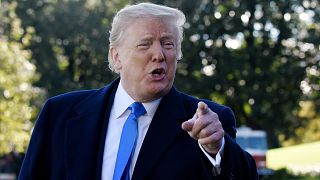 Copyright

Olivier Douliery Pool via Getty Images

-
President Donald Trump lobbed a crass insult at Stormy Daniels Tuesday, calling the adult film star "horseface" after a federal judge dismissed her defamation suit against the president.
"Great, now I can go after Horseface and her 3rd rate lawyer in the Great State of Texas," Trump wrote in a tweet that also referenced a news article about the suit being tossed.
"She will confirm the letter she signed! She knows nothing about me, a total con!" Trump added.
Daniels' attorney Michael Avenatti shot right back, calling Trump a "disgusting misogynist and an embarrassment to the United States."
"Bring everything you have, because we are going to demonstrate to the world what a complete shyster and liar you are. How many other women did you cheat on your wife with while you had a baby at home?" he tweeted.
Less than 24 hours earlier, a federal judge dismissed Daniels' defamation lawsuit against Trump on Monday, finding a tweet by Trump to be constitutionally protected speech.
Daniels, whose real name is Stephanie Clifford, has claimed that she had a sexual encounter with Trump in 2006 and was warned by an unidentified man to keep quiet about it five years later. In April, she worked with a forensic artist to create a sketch of the man, who she said told her to leave Trump alone and suggested that something bad could happen to her. Trump responded by tweeting: "A sketch years later about a nonexistent man. A total con job, playing the Fake News Media for Fools (but they know it)!"
Trump has denied any sexual encounter with Daniels.
In a ruling filed in U.S. District Court in Los Angeles, Judge James Otero found that the tweet "constitutes 'rhetorical hyperbole' normally associated with politics and public discourse in the United States."
Daniels has filed a separate suit against Trump and Cohen seeking to invalidate a non-disclosure agreement in which Cohen paid her $130,000 to remain silent about the alleged affair before the 2016 presidential election.
Daniels has had crude words of her own for Trump.In her book "Full Disclosure," released earlier this month, Daniels described sex with Trumpas "the least impressive sex I'd ever had" and detailed his sex organs in graphic detail. She later said she regretted "body shaming" him.