Trump administration says to open trade talks with EU, UK, Japan
Comments
By Reuters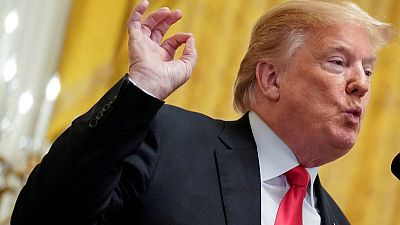 -
By David Shepardson
WASHINGTON (Reuters) – The U.S. Trade Representative's office told Congress on Tuesday it intends to open trade talks with the European Union, the United Kingdom and Japan.
Under fast-track rules, the United States cannot start talks with the EU, Japan and the United Kingdom until 90 days after notifying Congress.
"We will continue to expand U.S. trade and investment by negotiating trade agreements with Japan, the EU and the United Kingdom," said U.S. Trade Representative Robert Lighthizer in a statement. "We are committed to concluding these negotiations with timely and substantive results for American workers, farmers, ranchers, and businesses."
The letters from Lighthizer to Congress come weeks after the United States won agreement on reworking the North American Free Trade Agreement (NAFTA) with Mexico and Canada, and as the administration faces continuing trade friction with China.
The administration aims to "address both tariff and non-tariff barriers and to achieve fairer, more balanced trade" with the EU and Japan, the letters said.
Japan "is an important but still too often underperforming market for U.S. exporters of goods," the letter said. It noted the United States has a $69 billion trade deficit in goods with Japan and much of that is in the auto sector.
The letter on the EU noted the European Union and the United States have $1.1 trillion in annual two-way trade "the largest and most complex" economic relationship in the world and added that the United States has a $151.4 billion trade deficit in goods.
The letter to Congress on the UK said it plans to start talks "as soon as it is ready" after the UK exits the EU on March 29. The United States wants to develop "cutting edge obligations for emerging sectors where U.S. and UK innovators and entrepreneurs are most competitive."
Representative Kevin Brady, who is chairman of the House Ways and Means Committee, said "these three economies are some of our largest and most important trading partners, but they are also markets in which U.S. farmers, manufacturers, and service providers face significant barriers."
Senator Ron Wyden, the top Democrat on the Finance Committee that oversees trade issues, said "the administration must take the time to tackle trade barriers comprehensively, including using this opportunity to set a high bar in areas like labour rights, environmental protection and digital trade, in ways that actually benefit American workers and businesses" and should avoid "a quick, partial deal that only addresses some problems."
Last week, senators said Lighthizer informed them that the administration planned to soon launch trade talks with the Philippines but the USTR on Tuesday did not notify Congress of formal plans to open talks.
Lighthizer told a Senate panel in July that the United States was "close to beginning negotiations" with the Philippines. A spokeswoman for Lighthizer did not immediately comment on why the administration was not now moving ahead.
Wyden said last week he had "very serious concerns about undertaking trade negotiations with a Philippine president who brags about a bloody drug war that has reportedly claimed 12,000 lives."
(Reporting by David Shepardson; editing by Diane Craft)