Watch: Endangered silvery gibbon born at UK zoo
Comments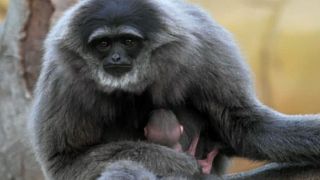 An endangered silvery gibbon has been born at England's Chester Zoo, marking the latest addition to the "biggest baby boom on record" there.
The new arrival was born to mum Tilu and dad Alven on Wednesday, following a pregnancy of around 210 days, and is still too small to be sexed.
Silvery gibbons are listed as endangered on the International Union for Conservation of Nature (IUCN) Red List of Threatened Species.
The IUCN estimates that there are fewer than 2,500 adult silvery gibbons in the wild, and says the species is in "continuing decline".
The silvery gibbon is endemic to the Indonesian island of Java, where conservationists say it has been threatened by historic deforestation.
The birth of the gibbon last week added to the biggest baby boom on record at Chester Zoo, where 733 mammals have been born so far this year.