Watch: Three rare white tigers born in Crimea
Comments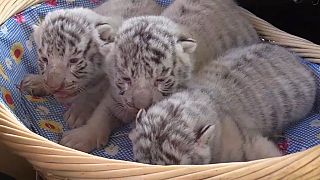 Three rare, white Bengal tigers have been born at a safari-park in Crimea and were shown off by the park's owner on Tuesday.
The cubs, two males and one female, are now a week old and are just starting to open their eyes.
Owner of Taigan safari park, Oleg Zubkov, said when they were born they weighed just under 1kg and are now around triple that weight.
"These babies were born weighing 900g each," he said. "Today one weighs around 3kg or more, I don't remember the last weigh-in. So every day they can gain 150-200g."
Zubkov claims that the 12 white tigers in his park in Belogorsk make up a significant part of the global white Bengal tiger population.
"Today, our park already contains 12 white tigers and I honestly don't know if anyone has more in the post-Soviet area or even in European zoos, considering that there are 130 of them in the world — this is quite a large proportion of even the global population."
The park's first white tigers arrived in 2009, a gift from Ukrainian officials.