Clean-up begins after hurricane batters Portuguese atlantic coast
Comments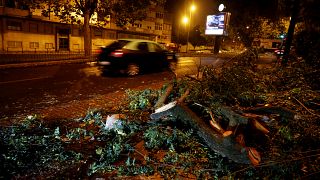 Engineers are putting in overtime to re-connect the 300 000 homes that lost electricity after hurricane-force winds and heavy rain slammed into Portugal's Atlantic coast over the weekend.
Seaside cafés were left in ruins, trees uprooted and light aircraft destroyed after winds of up to 100 kilometres per hour struck on Saturday night.
27 people suffered minor injuries. There have only ever been five hurricanes recorded on this coast and locals were left in a state of shock.
"It was horrible... it was horrible," said one. "I have never seen anything like it."
Spanish authorities told residents to stay indoors, but the urge to take photos was too strong for some
Hurricane Leslie moved north-east through the peninsula with Lisbon, Porto, Spain and south western France also being hit.