UK's Brexit Secretary makes surprise trip to Brussels
Comments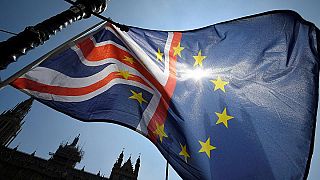 Britain's Brexit Secretary Dominic Raab is in Brussels for last-minute talks with the EU's chief negotiator Michel Barnier
Their meeting comes amid rumours that a provisional deal on the UK's departure could soon be announced, five months before Brexit takes effect on March 29, 2019.
EU leaders are due to meet at a crucial summit on Wednesday to discuss progress on the talks.
Officials said on Sunday night that a deal on Britain's divorce terms had not yet been agreed.
The biggest issue still on the table is the backstop - essentially, a safety net that attempts to address the question of what happens at the land border between Northern Ireland and the Republic of Ireland.
Neither side wants to introduce checks on goods or passports at the border, but Britain and the EU disagree on the detail.
The European proposal would keep Northern Ireland in the EU's customs union, but UK Brexit supporters warn it could keep the whole country in the customs union indefinitely.
"The fact is that this is one of the real sticking points that we got, too, and it's a big issue of course and we are all committed to working with the EU and the Republic of Ireland," Raab said on Friday.
"What we cannot do is see the United Kingdom locked in by the back door to Customs Union Arrangement what it should leave us in a definite limbo. That wouldn't be leaving the EU."
Wednesday's summit will be the first time EU leaders have come together since September, when UK Prime Minister Theresa May's efforts to reach a Brexit deal was rejected.
One British minister said he believed a Brexit deal was possible.
"We've had all full lot of noise all the way through and I think the best approach is to concentrate on making sure that as a nation we can get the best deal," Matt Hancock, the UK's Health Secretary, told BBC television on Sunday.
"And as I said, the Prime Minister is absolutely rock solid behind getting that deal including ensuring the backstop arrangements are temporary."
But with a little over five months until the UK officially leaves the EU on March 29 next year, the time to reach a deal is running short.