Merkel's Bavarian allies suffer historic setback in election
Comments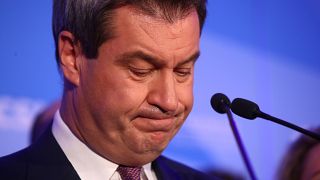 German Chancellor Angela Merkel's Bavarian allies have suffered their worst election result since 1950, according to an exit poll for Sunday's state vote.
The Christian Social Union (CSU) won 35.5 percent of the vote, an exit poll for broadcaster ARD showed, losing its absolute majority for only the second time since 1962.
The result, saw the pro-immigration Greens come second and the far-right Alternative for Germany (AfD) enter the state assembly for the first time.
It now means the CSU will need to form a coalition in Bavaria. Its leader and minister of the interior, Horst Seehofer, has caused problems for Merkel as he has gradually shifted his party to the right since the Chancellor welcomed more than one migrants to Germany in 2015.
The open-door migrant policy has seen a rise in support for the far-right Afd and caused Merkel's government to come close to collapse.
Divisions between Merkel's Christian Democratic Union and the CSU widened after an inconclusive national election in March forced them into a coalition with the left-leaning Social Democrats (SPD).
There is further trouble ahead for Merkel, who faces a CDU party congress in December when she will seek re-election as party chairwoman.
Another test for her CDU party will come in two weeks time during the regional election in the western state of Hesse, home to the financial centre of Frankfurt. The CDU is expected to remain the largest party but lose votes.