Moroccan tightrope walker thrills Chileans with skyscraper sortie
Comments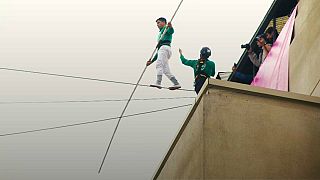 A Moroccan tightrope walker delighted Chileans on their daily commute in Santiago on Wednesday by crossing two skyscrapers in the capital.
Mustafa Danguir, commonly known as "Danger", made the crossing on a metal cable 75 metres (246 feet) from the ground.
Danger already has a Guinness record under his belt for a 2010 crossing in Spain from a height of 180 metres (590 feet).
The Santiago tightrope event is to promote a circus festival in Chile that showcases local talent,