Global businesses review commitments with Saudi Arabia
Comments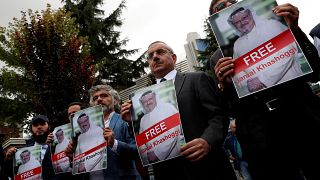 The mysterious disappearance and possible murder of a Saudi journalist in Turkey made business executives around the world review their commitments in Saudi Arabia.
Richard Branson has halted discussions with Saudi Arabia's sovereign wealth fund about a planned $1bn investment in Virgin's space companies and suspended his participation in two advisory boards.
His move was followed by news that Dara Khosrowshahi, Uber's chief executive, Viacom boss Bob Bakish had all reconsidered their attendance at a high-profile Saudi conference later this month.
Media companies CNN, the Financial Times, the New York Times as well as reporters and editors from the Economist and CNBC are pulling out of the Saudi Future Investment Initiative, known as Davos in the Desert.
At the same time the diplomatic row between Saudi Arabia and Turkey might affect the economic ties between countries.
Hilal Khashan, Professor of Political Science at AUB (American University of Beirut) says, "Turkey is in a very difficult economic situation and the Saudis understand this. Turkey also has difficulties with the Trump administration, and the sanctions that he imposed in recent weeks. So Turkey does not want to add to its travails, Turkey wants to minimize them especially since the Saudis have important investments in Turkey and of course, the balance of trade between the two countries tilts in favour of Turkey."
Saudi Arabia is a major market for Turkish companies, while many Saudi businesses have invested in Turkish firms. Over half a million Saudi tourists visit Turkey every year.