What has missing journalist Jamal Khashoggi said about Saudi Arabia?
Comments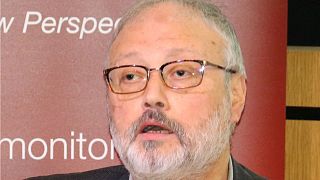 Copyright

Middle East Monitor/Handout via REUTERS
Fears are growing over the fate of Saudi journalist Jamal Khashoggi, after Turkish authorities said they believed he was killed inside his nation's consulate in Istanbul.
Khashoggi, who was a contributor to the Washington Post, was last seen visiting the consulate on Tuesday to secure documentation for his forthcoming marriage.
A Turkish official told Reuters that police believe the dissident was killed in a "premeditated" murder, before his body was moved out of the consulate.
Before disappearing, the prominent Saudi writer had been living in self-imposed exile in Washington, fearing retribution for his critical views on the kingdom's policies.
But what has Khashoggi actually said?
'Fear, intimidation, arrests and public shaming'
"When I speak of the fear, intimidation, arrests and public shaming of intellectuals and religious leaders who dare to speak their minds, and then I tell you that I'm from Saudi Arabia, are you surprised?" Khashoggi wrote in the Washington Post in September 2017.
Khashoggi went on to write that despite progressive promises by Crown Prince Mohammed bin Salman, "all I see now is the recent wave of arrests", which "represents the public shaming of intellectuals and religious leaders who dare to express opinions contrary to those of my country's leadership."
"We Saudis deserve better," he said.
'Saudi Arabia's crown prince is acting like Putin'
In November 2017, Khashoggi compared bin Salman to Russian President Vladimir Putin.
"He is imposing very selective justice. The crackdown on even the most constructive criticism — the demand for complete loyalty with a significant 'or else' — remains a serious challenge to the crown prince's desire to be seen as a modern, enlightened leader," he wrote.
'No one is allowed to write an objective piece in any newspaper'
In a debate about bin Salman's reforms on Al Jazeera earlier this year, Khashoggi said "nobody will dare to speak and criticise" them.
"As we speak today, there are Saudi intellectuals and journalists jailed," he argued.
"No one is allowed to write an objective piece in any newspaper."
'In Saudi Arabia at the moment, people simply don't dare to speak'
Khashoggi accused the crown prince in April of "peddling revisionist history" by blaming the events of 1979 — the siege of the Grand Mosque of Mecca and the Iranian Revolution — for Saudi Arabia's problems.
"In Saudi Arabia at the moment, people simply don't dare to speak," he wrote in the Washington Post.
"The country has seen the blacklisting of those who dare raise their voices, the imprisonment of moderately critical intellectuals and religious figures, and the alleged anti-corruption crackdown on royals and other business leaders.
"Liberals whose work was once censored or banned by Wahhabi hard-liners have turned the tables: They now ban what they see as hard-line, such as the censorship of various books at the Riyadh International Book Fair last month. One may applaud such an about-face. But shouldn't we aspire to allow the marketplace of ideas to be open?"
'Crown prince seems oblivious to the need for any popular discussion or consent'
In a co-bylined article for The Guardian newspaper in May about the Saudi crown prince's diplomatic visit to the UK, Khashoggi said bin Salman had adopted a new form of extremism.
"For his domestic reform programme, the crown prince deserves praise. But at the same time, the brash and abrasive young innovator has not encouraged or permitted any popular debate in Saudi Arabia about the nature of his many changes," he wrote.
"He appears to be moving the country from old-time religious extremism to his own 'You-must-accept-my-reform' extremism, without any consultation — accompanied by arrests and the disappearance of his critics."
'No independent voice or counter-opinion will be allowed'
"It is appalling to see 60- and 70-year-old icons of reform being branded as 'traitors' on the front pages of Saudi newspapers," Khashoggi wrote in May.
"The message is clear to all: Activism of any sort has to be within the government, and no independent voice or counter-opinion will be allowed. Everyone must stick to the party line."
Khashoggi said Saudis were expected to "accept, with gratitude, the social reforms that I have long called for while keeping silent on other matters — ranging from the Yemen quagmire, hastily executed economic reforms, the blockade of Qatar, discussions about an alliance with Israel to counter Iran, and last year's imprisonment of dozens of Saudi intellectuals and clerics."