'In their eyes, we are not a family': Romanian couple explain referendum boycott
Comments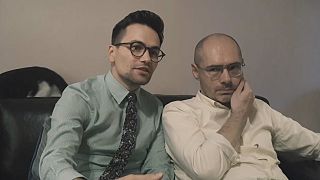 As Romania takes to the polls this weekend for a referendum on the constitutional definition of marriage, Florin Buhuceanu and Victor Ciobotaru are staying at home.
The couple, who have been together for almost five years, said they want to avoid the "ugly process" that seeks to amend the country's constitution to redefine marriage as being only between a man and a woman rather than "two spouses".
"It's about injecting hate deliberately in the Romanian society," said 47-year-old Buhuceanu, a prominent LGBT activist who heads the rights group Accept.
"It's about dividing people, families and Romanians into two separate classes using the referendum as the most democratic process."
The couple met at the beginning of 2014.
"Our first date was more of a meeting. We started to talk online. I remember him from TV when I was far away in my village. He was one of the very few public gay [people] in Romania," said Ciobotaru, 30.
"I had some curiosities about the past and the LGBT community in Romania and this is how our first meeting happened. But the first meeting was followed by other dates and I've fallen in love with this wonderful man who now is my partner. We decided to move in together and since then we are a couple, we are a family."
'That was the moment my mum found out her son was gay'
Buhuceanu and Ciobotaru live together with their cat in an apartment in central Bucharest.
But while they are committed to a future together, not everyone has been supportive of their relationship.
"There is no visibility around the LGBT community. It is still something exotic, something new," Buhuceanu told Euronews.
Buhuceanu recalled that he first came out as gay "many, many years ago" in what he described as a "rather unfortunate situation".
"I was asked in a TV studio about legal issues concerning homosexuality...The first question that moderator asked was something like. 'How do you feel, being a homosexual in this country?' That was the moment my mum found out her son was gay."
While his mum has accepted his sexuality, Buhuceanu said some members of his wider family are still struggling to understand.
For Ciobotaru the process of coming out was also a difficult one.
"I studied theology. I struggled all this time with the fact that I'm a homosexual and I knew that the bible and the church condemns who I am but at the same time I felt that there is nothing wrong with who I am," he said.
Ciobotaru spent years coming to terms with his sexuality before making it public a year ago.
While some were supportive, he said other close friends "completely changed their attitude towards me."
"That is sad because I'm the same person they know for a very long time. I have the same values, I didn't change in any way. It's just the fact that they found out one more thing about me. That I am gay," he said.
'It's the beginning of a very dangerous and a toxic process'
"He received threats, physical threats of violence. Sometimes there's a very fine line between these verbal threats and physical threats," Buhuceanu added.
Both men have dealt with threats, isolation and awkwardness, and say the "fear [among the LGBT community] is prevalent."
They say the atmosphere has heightened amid campaigning for this weekend's two-day referendum.
The vote was called after Coalition for the Family — a collection of NGOs who want to preserve the "traditional family" — collected three million signatures in support of the constitutional change in 2016.
The head of the group, Mihai Gheorghiu, has dismissed concerns that the referendum could threaten the safety of LGBT people in Romania.
"For them, nothing will be changed. They are under the protection of Article 26 of our constitution so they have their protection and nothing evil can happen to them," he told Euronews.
"It's a matter of expressing our will and our values."
'In their eyes, we are not a family, we are an anti-family'
LGBT groups in Romania have reported rising cases of hate crimes in the run-up to the vote.
"I realised from the very first moment that it's the beginning of a very dangerous and a toxic process," Buhuceanu said.
"In their eyes, we are not a family, we are an anti-family, we are trying to destroy the traditional family."
Like others opposing the vote, the couple plan to spend time together throughout this weekend, in hopes that if enough people boycott the referendum it will fail to reach the five million votes — or 30% of the electorate — needed to validate the result.
"Sexual orientation is actually not only about who are you sexually attracted to. But it's also about who you love, who you care about, who you dream about and who you make plans for the future with," Ciobotaru said.
As they dodge the ballots this weekend, they say they can only hope that the referendum has the unintended result of ultimately bringing them a step closer to dreams of being entitled to a civil partnership.
"It's that kind of earthquake that will create more visibility. Not necessarily acceptance for us, but more visibility, which could ultimately lead to acceptance," said Buhuceanu.