Top innovators talk creativity and change in Romania
Comments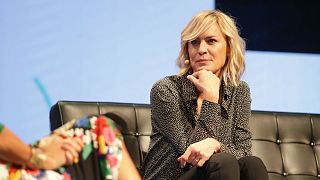 Leading voices in film, marketing, music and technology gathered in the Romanian capital of Bucharest this week to discuss ways their creative industries can make a positive impact.
The event, organised by the International Advertising Association (IAA), was held under the theme "Creativity for Better", with displays of innovation ranging from an Artificial Intelligence DJ to unique graphic designs.
"Society is more turbulent than ever… everywhere around the world. Yet humanity has this amazing, unlimited, generous resource: creativity," Maria Predoiu, president of IAA Romania, said of the inspiration behind the event.
"Creativity in use can create huge impact. And when done well, it can create huge positive impact," she told Euronews.
Speakers, including Hollywood actress Robin Wright, offered insights into how they had used their various creative skills to spur change.
While Wright is best known for her film and television work, including her leading role on political drama House of Cards, she is also an activist and businesswoman.
She told Euronews of how the conflict in the Democratic Republic of the Congo inspired her to launch her own brand of sleepwear, Pour Les Femmes, which aims to create economic opportunities for women dealing with the scars of war.
"We are consumers, we're never going to stop being consumers so I wanted to raise attention, saying can we help these women post-trauma," she said.
"My friend and I of 20 years, she's a fashion designer, were like why don't we do what we've always wanted to do, which is build a great sleepwear line and make it a give-back company."
Proceeds from the company are used to fund community centres, which train women in vocational skills.
"They have work; they have purpose; they feel reward every day," Wright said.
Others showed how creative industries could play a role in bringing people together.
Marian Goodell, CEO of the Burning Man Project, said the annual festival in which a city of artistic works is erected in the Nevada desert had created a "collaborative, creative, engaging environment" that had transcended beyond the event itself.
She explained that artists taking part in the event had gone on to showcase their work elsewhere in the world, such as David Best who built a wooden temple in Northern Ireland, where people wrote messages of love and loss about the conflict before the structure was set alight.
"Together people healed and discussed the past and present through this art," Goodell said.
Bharat Avalani, CEO of marketing company Connecting The Dots, said advertising could also be used to heal divides.
"Brands can connect people across borders, connect people between faiths."
"It's about empathy not apathy. Marketing done well makes people look good, feel good and get more out of life," he told Euronews.
Predoiu of IAA said she hoped the event inspired more people in creative industries to use their work for positive causes.
"As an industry, we communicate infinite messages to all the people of this world. We shape minds and we influence hearts. So, what if, each and every message or initiative that our industry creates becomes an act of positive transformation?"