Cristiano Ronaldo 'firmly' denies rape allegations
Comments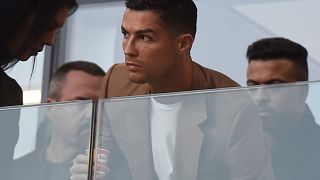 Portuguese footballer Cristiano Ronaldo dismissed the rape allegations against him on Wednesday, saying that he has a clear conscience.
"I firmly deny the accusations being issued against me," Ronaldo wrote on Twitter in a statement on the subject.
"Rape is an abominable crime that goes against everything that I am and believe in. Keen as I may be to clear my name, I refuse to feed the media spectacle created by people seeking to promote themselves at my expense.
"My clear conscious (sic) will thereby allow me to await with tranquillity the results of any and all investigations," he added.
The five-time Ballon d'Or winner is being sued by a Nevada woman who alleges that Ronaldo raped her in a Las Vegas hotel in 2009.
Documents filed by the civil lawsuit also allege that Ronaldo hired a team of "fixers" to force the 34-year-old woman into accepting a monetary settlement to keep quiet.
In total, the lawsuit counts 11 accusations against Ronaldo or people on his payroll including conspiracy, defamation and abusing a vulnerable person and seeks damages of at least $200,000 (€174,000).
In a live Instagram video last Friday, the Juventus and Portugal forward already appeared to dismiss the allegations as a publicity stunt, saying "Fake. Fake news."
"You want to promote by my name. It's normal. They want to be famous, to say my name. But it is part of the job. I am a happy man and all good," he said.