Juventus move 'not a difficult decision' for Ronaldo
Comments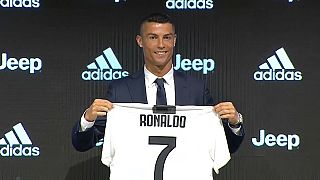 Football star Cristiano Ronaldo said it was not a difficult decision to leave Real Madrid for Italian club Juventus, as he insisted that he is as ambitious as ever for sporting glory.
The 33-year-old Portugal forward, who joined Juventus last week on a four-year contract for €100 million, said he aims to help his new club win their first Champions League title in more than two decades.
"It was a well thought out decision. It is the best club in Italy. It has an outstanding manager and coaches so it was not a difficult decision to take," he said on Monday at his presentation in Turin.
"I hope I can be the lucky star of this club but we will see what happens," he said of his hopes to steer the team to Champions League victory.
Ronaldo scored twice when Real Madrid beat Juventus 4-1 in the 2017 Champions League final.
The football star added that he was "grateful for the opportunity" to play for the club, as players of his age "usually go to Qatar or China".
"Usually players think their careers are over when they are 33. But I don't feel that at all," he said.
Ronaldo left Real Madrid as their all-time top scorer, with 451 goals. He also won two La Liga titles and four Champions League trophies over nine years.