Watch: Irish village is transformed into a medieval battlefield
Comments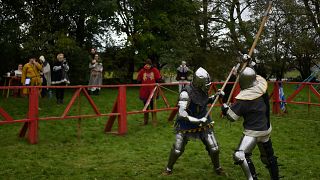 The west of Ireland castle of Claregalway went back to its roots on Saturday, transformed into a medieval battlefield.
Hundreds of enthusiastic visitors, many from around the world, re-enacted full contact combat and games from centuries ago.
Fighters dressed head to toe in authentic chain-mail armour battled it out and while their swords may have been blunt, the games were not for the faint-hearted and some contenders left with dented helmets.
Off the field, metal smelters hammered weapons into shape, spice merchants prepared remedies and tradeswomen spun and dyed wool, giving attendees the complete medieval experience.