Indonesia Disaster: at least 400 dead
Comments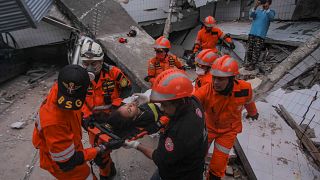 More than 400 people are confirmed dead after an earthquake and tsunami hit the Indonesian island of Sulawesi.
Strong aftershocks have continued since the earthquake. Bodies can be seen on the city streets of Palu with injured people being treated in tents because of damage to local hospitals.
The 7.5-magnitude earthquake and tsunami destroyed thousands of homes in its wake, leaving hundreds more injured.
Dozens remain missing, some are thought to be trapped in the debris of collapsed buildings in the city.
Immediately after the impact, Electricity and communication networks went down.
Aerial video footage shows many buildings and shops destroyed, bridges twisted and collapsed. Authorities say they expect the death toll to increase dramatically in the coming days.