Indonesia death toll soars above 800, disaster agency confirms
Comments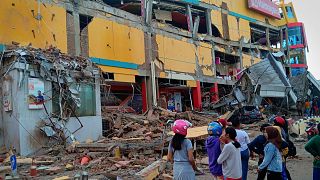 At least 832 people have been killed after a 7.5-magnitude earthquake and subsequent tsunami rocked the Indonesian island of Sulawesi on Friday, the country's disaster agency confirmed Sunday.
They added that the affected area is much larger than previously thought.
There are also fears the death toll could rise to the "thousands" as contact is restored with remote areas where communications were downed, Vice President Jusuf Kalla has said.
Rescue teams on Sunday were struggling to reach communities in affected parts of the island.
Dozens of people are thought to be trapped in the rubble of a hotel and shopping mall in the city of Palu.
The Red Cross estimates that more than 1.6 million people in total could have been affected by the disasters.
Thousands of buildings were destroyed by the earthquake, which was centered about 48 miles (77km) north of Palu, according to the United States Geological Survey.
"We have found corpses from the earthquake as well as bodies swept up by the tsunami," said Indonesia's disaster agency spokesman Sutopo Purwo Nugroho on Saturday.
The waves reached as high as six meters (18 feet), he added, saying some people were able to save themselves by climbing taller trees.
Preparations for a beach festival were being made in Palu when waves struck, houses had been swept away and families remain missing.
Indonesia's military dispatched cargo planes Saturday carrying medical supplies to affected areas, but rescue efforts were hampered after communications around Palu and a nearby fishing village, Donggala, which lies close to the earthquake's epicentre, had been downed.
Indonesia sits on the Pacific Ring of Fire and is regularly hit by earthquakes. Friday's tremors came weeks after 460 people were killed following an earthquake on the Indonesian island of Lombok, destroying tens of thousands of buildings and displacing over 400,000 people.