Watch: Tsunami thrashes Palu in Indonesia
Comments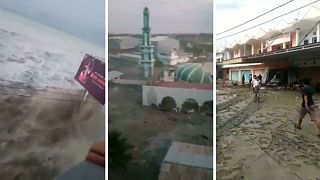 Footage has emerged of a devastating tsunami which swept the city of Palu in Indonesia while hundreds were attending a beach festival.
More than 380 people died after a 7.5 magnitude quake struck the Indonesian island of Sulawesi Friday, powering waves which reached up to six metres high, destroying buildings and sweeping away families that cross its path.
Amas was watching the festival when the waves hit, and captured the impact on camera.
Her sister Viky Nadyah told Reuters that Amas then sheltered in a four-storey parking lot for seven hours after seeing vehicles below being carried away by the tsunami.
Watch her eyewitness footage in the video player above.