Students at Catholic school in Germany protest for gay teacher's rights
Comments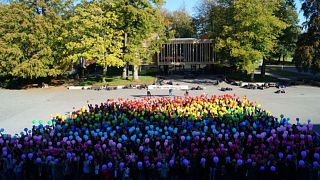 Copyright

Credit: Gymnasium Mariengarden
One topic is at the forefront of everyone's minds at a Catholic school in Borken, on Germany's border with the Netherlands: the decision of the school's management to backtrack on offering a trainee teacher a permanent position.
The reason his offer of employment was retracted was "because the church idea of marriage and family and his life plan did not correspond", according to a joint statement from school management, student representatives and teachers, posted on the church-run grammar school's website.
Shortly before the decision to revoke the man's offer of employment, the teacher had announced plans to marry his same-sex partner.
On Thursday, around 600 pupils turned out to show their solidarity with the teacher holding aloft rainbow coloured balloons as they assembled in front of the school building. They also held a sign "Mariengarden is colourful."
The representatives also said in the statement on their website that "many students, teachers and parents are affected, irritated or outraged," and that Mareingarden must remain a place that was open to discussion.
Christoph Heinemann, a spokesman for the Missionary Oblates of Mary Immaculate, a religious order behind that school made reference to church labour law and said they had "no other alternative", according to KNA news agency.
Catholic Churchs have the right to hire and fire employees according to their religious laws, on the authority of the German constitution.