Watch: Protester ushered out of Erdogan-Merkel press conference
Comments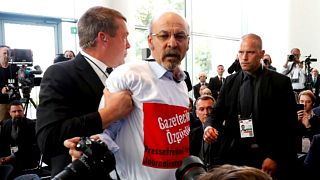 A demonstrator was on Friday escorted out of a press conference in Berlin between Turkish president Recep Tayyip Erdogan and German Chancellor Angela Merkel.
The man protested loudly during a question-and-answer session with the two leaders.
He was wearing a t-shirt demanding freedom for imprisoned journalists in Turkey, according to reporters on the scene.
Erdogan and Merkel observed the protest without commenting before glancing at each other and continuing the news conference.
Erdogan is in Germany for a three-day state visit. Several demonstrations are planned around Berlin as the Turkish president is scheduled to attend a state banquet and a mosque opening in Cologne.