More chaos for Ryanair travellers
Comments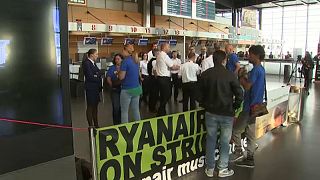 Ryanair has been hit by strikes across Europe as it struggles in negotiations with some trade unions, forcing it to cancel flights.
Cabin crews in Germany, Belgium, Portugal, the Netherlands, Spain and Italy, as well as pilots in Germany, staged a 24-hour walkout on Friday.
Sarkis Simonjan, former Ryanair Cabin Crew says, "Today I can say that if you work with Ryanair as cabin crew, you're a slave with a tie, which means that actually you have to work to be their slave, and whenever you want to complain they just fire you, that's it".
Juan Fernandez says, "In my case my parents were sending me money every month to survive and it's really, really hard to survive there."
40,000 passengers have been affected this time and Unions have warned that more strikes could follow.
Bryan Carter for Euronews says, "Here at Brussels airport, about twenty flights have been canceled and some employees of Ryanair wear tee-shirts on which are written" Ryan Air must change "," Ryan Air must change ". It's true that the management of the Irish company and some unions in some European countries have reached agreements, but there are still many points to discuss, and therefore it's likely that we'll continue to see actions of this type in the coming months. "
Meanwhile, these strikes have boosted rival EasyJet as it forecast an annual profit at the upper end of expectations after Ryanair cancellations.