Aquarius 2: Poor weather hampers rescue
Comments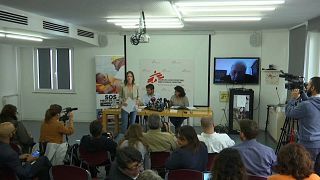 A rescue ship carrying 58 migrants remains stranded at sea as poor weather hampers a rescue operation off the coast of Malta.
That's according to SOS Mediterranee at a press conference.
The Aquarius 2 was still a few miles off the Maltese coast.
It's after a deal was struck among five European countries to reallocate the rescued people but then became stuck on a private rescue ship because it couldn't find a country which would let it dock.
Claudia Lodesani, President of Medecins Sans Frontieres Italy says, "Before we had a system where people's lives were the heart of the issue, now it is not. Now people are used a bit like hostages for political discussions. All European governments are responsible for this"
Malta says it will send a military boat to take the migrants to shore, before they proceed to the other European countries.
All the migrants from the Aquarius 2 rescue ship will disembark in Malta.
Spain will take 15 of the passengers, according to the official.
Portugal says it would take 10 of the migrants and the other EU countries did not immediately specify how many they would accept.
The Aquarius is the sole private rescue boat operating near the deadly central Mediterranean human trafficking route, and Panama's decision to remove its registration threatens to put it out of action.