Israel orders Bedouin villagers to clear homes
Comments
By Reuters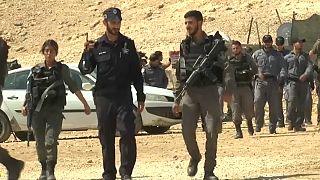 Israel has ordered residents of a Bedouin village in the West Bank to clear their houses by October 1 or face demolition.
Khan al-Ahmar consists of tin and wooden shacks built on a desert hillside beside a major Israeli highway.
Israel wants to relocate the 180 residents to a site 12 kilometres away, next to a landfill site. Security forces handed out the letters on Sunday morning.
One of the residents, Ahmad Hassan, said: "We will not leave this place unless it is by force and hopefully we will not leave. Even if they demolish we will rebuild, again and again …. if they demolish we will rebuild."
Israel's Supreme Court ruled in May that the village be bulldozed, saying it was built without the required permits. Palestinians say such documents are impossible to obtain.
The move has drawn criticism from some European states, who say the demolition will hurt prospects for peace.
There are fears of violence if the bulldozers move in.