Man survives for over two days in capsized ferry
Comments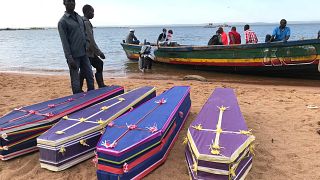 A man has been rescued from a ferry two days after it capsized on a lake in Africa. The vessel overturned on Lake Victoria in Tanzania with the loss of over two hundred lives.
The man survived by being trapped in an air pocket inside the stricken ship that capsized near Ukara island. He is reported to be in a serious condition. It's thought the ship tipped over when too many passengers moved over to one side.
After hearing knocking noises rescuers decided to resume the search on Saturday. Tanzania's president has ordered four days of national mourning for the victims and as well as the arrest of the boat's operators.