Pope due in Baltic states on independence anniversary
Comments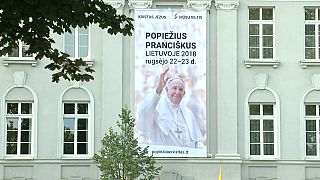 Pope Francis is due in Lithuania on Saturday for a tour of the Baltic states as they celebrate 100 years of independence.
During that time they've endured occupations by both the Soviets and the Nazis, neither of which the Catholic church recognised.
"The visit reflects the Pope's idea of visiting the periphery rather than established centres of power. Pope Francis comes to Lithuania as a Nation celebrates 100 years of independence, and the 25th anniversary of the visit of Saint Pope John Paul the Second," Rev. Mykolas Sotnichenka, the Undersecretary for Lithuanian Bishops Conference, said.
In the capital Vilnus he's to visit the Museums of Occupation and Freedom Fighters as well as a memorial to the victims of the Jewish ghetto.
"We hope to see here about 40 000 people, but in Lithuania and in Kaunas and in all Lithuania, oh my God, it will be a lot of thousands, maybe a million people," Giedre Kederyte, a back stage volunteer for the pope's visit, said.
On Monday the pope will go on to visit the smaller Baltic states of Latvia and Estonia.
According to statistics, nearly 80 percent of Lithuania identifies as Roman Catholics. In Latvia the figure is 21 percent and in Estonia it's less than 1 percent.