On Kavanaugh hearing, Trump says Senate should 'get on with it'
Comments
By Jonathan Allen with NBC News Politics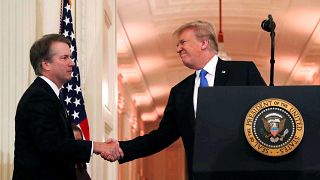 President Donald Trump said Thursday that it's time for the Senate to "get on with it" as the Senate Judiciary Committee works to schedule a hearing to consider Christine Blasey Ford's allegation that Supreme Court nominee Brett Kavanaugh sexually assaulted her when they were in high school.
"I don't think you can delay it any longer," Trump said in an interview with Fox's Sean Hannity just before a campaign rally in Las Vegas. "They've delayed it a week, and they have to get on with it."
In negotiations with committee lawyers Thursday, Ford's attorneys said that she would be willing to testify as early as next Thursday—three days after the panel had hoped to hold a hearing—according to sources who spoke to NBC News. Additionally, Ford wants to testify after Kavanaugh, does not want Kavanaugh in the same room when she speaks to the committee and would like extra security precautions, the sources said.
Trump defended his nominee in the Fox interview and wondered why the FBI, which investigates federal crimes and performs background checks on presidential nominees, didn't get involved when Ford says she was assaulted.
"Why didn't somebody call the FBI 36 years ago?" he asked. "To take a man like this and besmirch—now with that being said, let her have her say and let's see how it all works out."
Trump, who was in Nevada in part to boost the re-election hopes of Sen. Dean Heller—the only incumbent Republican whose race is rated as a "tossup" by the Cook Political Report—also called for special counsel Robert Mueller's Russia probe to "come to an end."
And playing to a crowd chanting "build the wall" to support his proposed border barrier between the U.S. and Mexico, Trump said Republicans in Congress are just waiting until after the midterm elections to give him the authority and funds he needs for construction.
"I'm told by Republican leadership," he told Hannity, "that they will do it immediately after the election."