Child migrant arrivals at Greek islands soar by one-third in 2018, says UNICEF
Comments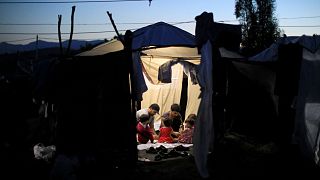 Copyright

REUTERS/Giorgos Moutafis
The number of refugee and migrant children arriving on the Greek islands has soared so far this year, with almost a third more making the journey between January and August than in the same period in 2017, the United Nations children's agency (UNICEF) said Friday.
According to the agency, more than 850 children arrived on the Greek islands each month on average between January and August, marking a 32% rise from last year.
UNICEF did not cite a specific reason for the major increase in child arrivals, but told Euronews the majority came from countries affected by conflict, such as Afghanistan, Iraq and Syria, where living conditions had "not gotten any better for children and their families."
While by Greek law, children should spend a maximum of 25 days at the camps, the agency said some had spent more than a year there.
This increase in arrivals and failure to move people out of the camps has led to a deterioration in living conditions, it said.
"As the number of refugee and migrant children arriving on the Greek islands increases, conditions at the centres hosting these children are becoming more dire and dangerous," said UNICEF's country coordinator for Refugee and Migrant Response in Greece, Lucio Melandri.
UNICEF cited issues including violence, psychological distress and a lack of basic sanitation at the overcrowded camps.
And, it said, the situation was likely to get even worse.
"Based on what we have seen in previous years, we expect the number of new refugees and migrants arriving on the Greek islands to increase in the coming months," Melandri told Euronews.
UNICEF has urged authorities to transfer children to the Greek mainland and speed-up family reunification procedures.