Sport's top doping agency to lift ban on Russia's doping agency
Comments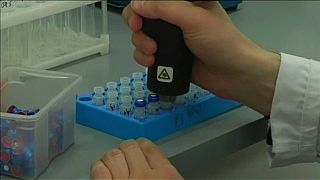 The ban on Russia's anti-doping agency RUSADA was lifted by the World Anti-Doping Agency (WADA) on Thursday, subject to various conditions, in a decision greeted with dismay by campaigners.
Although the change will have no immediate effect on current bans on the Russian federations for athletics, weightlifting and paralympics, it opens the door for their return, following the reinstatement of the Russian Olympic Committee after the country was banned from this year's Winter Games in South Korea.
RUSADA was suspended in November 2015 after an independent WADA report carried out by Canadian lawyer Richard McLaren outlined evidence of massive state-backed, systematic doping and cover-ups in Russian sport.
Since then WADA has repeatedly said RUSADA would not be reinstated until it satisfied various key criteria on a "roadmap for return", including recognising the findings of the McLaren Report and allowing access to stored urine samples at RUSADA's Moscow laboratory.
At Thursday's WADA executive committee meeting in the Seychelles, members approved a lesser version of the first point - a partial acceptance of the IOC's version of the McLaren Report - and set another "clear timeline" for the implementation of the second.
That means that, after remaining banned for refusing access to the Moscow lab, RUSADA is now approved, but could be banned again if access continued to be denied.
"Today, the great majority of the WADA Executive Committee decided to reinstate RUSADA as compliant with the World Anti-Doping Code, subject to strict conditions," WADA President Craig Reedie said in a statement.
RUSADA director general Yuri Ganus told Reuters that more work needed to be done to secure the reinstatement but said Thursday's decision was a positive sign for Russia's suspended track and field athletes, weightlifters and paralympians.
While the International Olympic Committee (IOC) reinstated Russia in February, the International Association of Athletics Federations' suspension remains in place.
The IAAF has its own task force investigating Russia's compliance, which will report back to a council meeting in December. Some Russian athletes have been allowed to compete as neutrals in international competition after proving their anti-doping credentials.
Russia was among nine countries to be given a one-year ban by the International Weightlifting Federation (IWF) last October due to doping offences discovered when samples from the 2008 and 2012 Olympics were reanalysed.
The International Paralympic Committee (IPC) has barred Russia from all Paralympic competitions since August 2016 over the allegations of state-sponsored doping.
WADA's decision came despite fierce opposition from athletes and other anti-doping bodies after WADA's review committee last week recommended that the Russian agency be reinstated. "Today marked the biggest decision in WADA's history, and it delivered a devastating blow to the world's clean athletes," Travis Tygart, head of the U.S. Anti-Doping agency (USADA) said in a statement.
"By ripping up the very Roadmap it created, WADA's decision to reinstate Russia despite the nation not having met the two remaining Roadmap conditions is bewildering and inexplicable."