French court orders Marine Le Pen to undergo psychiatric evaluation
Comments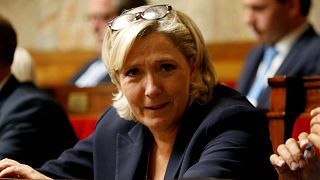 Copyright

REUTERS/Charles Platiau
A French court has ordered far-right leader Marine Le Pen to undergo psychiatric tests as part of its investigation into her decision to post images of executions carried out by the the Islamic State jihadist group on Twitter.
The investigation relates to three graphic images that Le Pen posted on the social media network in 2015, including the beheading of American journalist James Foley.
She posted the images in response to a journalist who drew comparisons between the militant group and her party.
If convicted, Le Pen faces up to three years in prison and a fine of €75,000.
Why does Le Pen need to have a psychiatric evaluation?
According to a copy of the court order, which Le Pen posted to Twitter on Thursday, the judge wants the evaluation to assess if she suffers from any mental illness and if that could have affected her understanding of what she was doing when she posted the tweets.
Le Pen has labelled the order "crazy".
"I thought I had experienced everything: well no! For having condemned Daesh horrors in tweets, the 'justice system' is putting me through psychiatric tests! Just how far will they go?" she wrote on Twitter.
She later told reporters she would skip the test, saying: "I'd like to see how the judge would try and force me do it."
The tribunal declined to confirm that it ordered the evaluation but said the assessments were a normal part of such probes.
Reactions to the order
Responding to the news of the order on Thursday, her far-left rival Jean-Luc Melenchon tweeted that the evaluation was unnecessary because Le Pen was "politically responsible for her political acts".
Italy's Interior Minister Matteo Salvini offered Le Pen his support.
"A court orders a psychiatric assessment for Marine Le Pen. Words fail me! Solidarity with her and with the French who love freedom!" he wrote.