Greek camp at Moria: reaching boiling point
Comments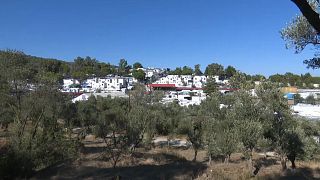 Two thousands asylum-seekers will be moved from the island of Lesbos to the Greek mainland by the end of the month. That's according to Greek authorities.
It's after human rights groups and local authorities criticised Greece for the poor conditions at the camp at Moria.
Around 9,000 people are stuck in tents and shipping containers at the former military base. The capacity is for around 3,000 people, so it's reaching boiling point.
Najtaba Salehi is a 25 year old Afghan asylum seeker and he says, "People should stay in lines for food, for about three to four hours, for every meal. For example, for breakfast, they come to lines at 02.00, 03.00 in the morning and they wait till 07.00"
According to the asylum seekers, they feel very vulnerable living there.
Mohammad Hasher Mirzad is a 28 year old asylum seeker and he says, "We came here to be in a safe situation. Unfortunately we are not safe. We are in a very bad situation. Every day and night, there are fights, people kill each other. We don't want to stay here. Especially the families don't want to stay here, they want to leave as soon as possible, because the weather is getting colder".
Last week, over a dozen human rights groups urged Greece to take action to render its camps fit for human habitation. The NGO Doctors Without Borders, says it found many teenagers had attempted to commit suicide or had self-harmed.
Apostolos Staikos, for Euronews says, "Repeated incidents of violence, overcrowded and appalling sanitary conditions. This is Moria, for many, the world's worst refugee camp. Most refugees describe it as prison, hell on earth or the ''new Guantanamo'',