Moscow blames Israel after Syria downs Russian plane
Comments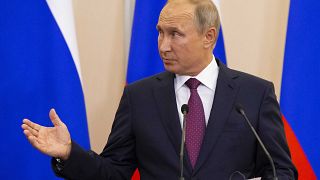 Moscow has threatened retaliation against Israel Tuesday after Syria shot down a Russian military aircraft with 15 people on board over the Mediterranean Sea.
Russian Defence Minister Sergei Shoigu told his Israeli counterpart Avigdor Lieberman the blame "fully rests with Israel", adding that Russia "reserves the right to take further steps in response."
Israel Defence Forces say they hold the Syrian president Bashar al-Assad's regime fully responsible for the incident and expresses sorrow for the death of Russian aircrew members. Israel will also share all the relevant information with the Russian Government to review the incident and to confirm the facts in this inquiry.
Russia is an ally of both Syria and Israel.
The Il-20 turbo-prop plane was flying over the Mediterranean sea as it returned to its base in Latakia when a French warship nearby began launching a missile strike at targets on land in conjunction with Israeli jets, according to the Russian ministry of defence.
It's not clear exactly what those missiles were aimed at but a spokesman for the French military denied involvement in the disappearance of the aircraft.
A search operation has been launched from the Russian Hmeymim airbase which has been at the heart of Moscow's largely effective air support of forces loyal to Syrian president Bashar al-Assad.
A US official told Reuters the plane could have been accidentally downed by a Syrian government anti-aircraft battery as defences were activated in response to the French and Israeli attack.
Kremlin spokesman Dmitry Peskov told reporters the Kremlin was studying the situation and would have more to say later, adding that Russia's position had already been set out by the Ministry of Defence.
A search-and-rescue operation is underway.