Macron tells job seeker all he has to do is 'cross the street'
Comments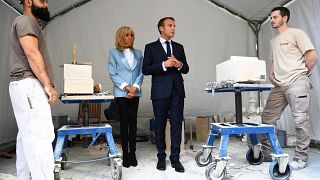 -
French President Emmanuel Macron has been criticised for being out of touch with ordinary citizens after telling an unemployed gardener that he could easily find work if he just changed industry.
In a video posted online, Macron is seen talking to a young man visiting the Elysée Palace this weekend as part of France's Heritage Day.
"I'm 25 years old, I send resumes and cover letters, they don't lead to anything," the young man told Macron.
He added that he had also contacted town halls to enquire about gardening work.
The president replied that he could easily find work if he was "willing."
"If you are ready and motivated, in hotels, cafes and construction, everywhere I go people say to me that they are looking for staff," Macron said.
"If I crossed the street I'd find you one," he added.
'President of the rich'
Unemployment remains stubbornly high in France, reaching 9.2% in July according to Eurostat -- well above the European Union average of 6.8%.
Young people are particularly impacted. At the end of 2017, some 22.3% of France's youth were looking for work, compared to 16.8% across the 28-country bloc.
But some sectors, including hospitality and catering, have said they are severely understaffed and have trouble hiring people.
Still, many on social media lambasted Macron for being the "president of the rich" under the MacronTraverseLarue ("Macron crosses the street") hashtag after the video spread online.
"In substance, it's the same liberal tune blaming unemployed people for being unemployed, on the form it is intolerable caste contempt. #Macron is the president of the rich and of contempt for the people," Eric Coquerel, MP for the far-left France Insoumise party, wrote on Twitter.
Twitter user Salvatore Casilli described Macron's advice as "scornful" and the president as "completely disconnected from reality."
Julien Jégard also made fun of the president by posting a meme showing a call for action at a pedestrian crossing with a sign reading "French people: to find a job, press here and cross the street"
Macron speaks 'the truth'
The government, however, defended Macron's comments.
"Is what the president said false? If you go to the Montparnasse area, you won't find that they need workers?," Christophe Castaner, head of Macron's Republic on the Move party, told LCI television on Sunday.
"We hear of 300,000 vacant jobs that need filling? One thing for certain is that the issue is also one of guidance. There have been fewer horticultural jobs these last few years and maybe this young man was not told he was heading into a dead-end.
"You would prefer empty words? (...) I prefer a president who speaks the truth," he added.