Pussy Riot activist arrives in Berlin
Comments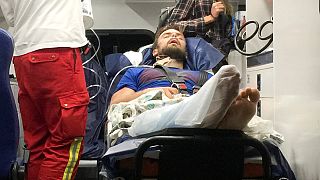 Pussy Riot activist, Petr Verzilov, has arrived in Berlin to receive medical treatment following a suspected poisoning. A video posted on Twitter by his ex-wife and fellow activist shows him aboard a plane at Berlin airport. He was taken to hospital last Tuesday in Moscow and only regained consciousness on Friday.
Verzilov was one of four members of Pussy Riot who invaded the pitch in police uniforms during the World Cup final in Moscow. The gesture was to protest at excessive Russian police powers. At the time they published their demands on social media.
Such events have led his fellow activists to believe that he was poisoned for his political beliefs and his actions.
Verzilov's flight out of Russia was organised by the Berlin-based Cinema for Peace Foundation that has close connections with Pussy Riot.
The foundation's founder said it was important to treat his as quickly as possible and to establish if and how he was poisoned in Russia.