Push to save historic orphanage in Turkey
Comments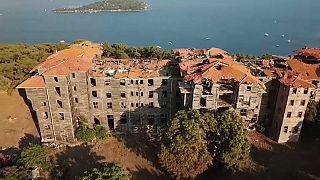 It looks more like the set of a horror movie than the majestic hotel and casino it was originally intended to be.
Built in 1899, the building on an island off Istanbul was never allowed to be used as a hotel and for many years it housed an orphanage for minority Greek children.
Now it's derelict and falling into disrepair. But there's a push to restore it to its former glory.
Known as Prinkipo, the building was designed by the architect Alexandre Vallaury for the company that ran the famed Orient Express.
Korhan Gömüs, architect and professor of urban planning at Mimar Sinan University in Istanbul, says it should be saved:
"It is a very modern building. It was conceived with beams and columns that have been measured well and really good quality materials were used. The building was conceived by a very famous architect, this is why the structure has survived until today. The fact that the wooden flooring has not moved in 120 years testifies to its quality."
The orphanage was home for almost 6,000 Greek children from 1903 until 1964 when it was forced to shut down, as tensions rose between Turkey and Greece over Cyprus.
Vitleen Magulas, 80, lived there with her sister, from 1945 to 1951.
"At night, when the moon came up, it was as if you could hug it. We had very beautiful nights there. Our school was in a very good location, on top of the island. Prinkipo is a very beautiful island. A princess."
Earlier this year, the cultural heritage organisation, Europa Nostra, included it on a list of seven endangered monuments, but its fate remains unclear.