Mexico City's mariachi district rocked by shooting
Comments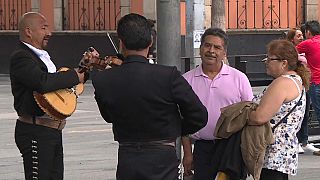 A popular tourist area of Mexico City – known for its mariachi bars – has been shaken by a gunfight that left at least five people dead and injured eight others.
While revellers ran for cover, a video showed one of the musicians continuing to play unfazed as the shooting erupted outside.
Witnesses said three gunmen dressed as mariachi musicians opened fire with rifles and pistols at the Plaza Garibaldi in the capital's historic Downtown.
Alan Gutierrez, an American tourist, said the incident would not help the city's tourism industry.
"It's sad whenever someone does get shot, and I think it's even more horrible whenever it happens in a tourist area because then it kind of scares away the tourists, which is revenue for the city, revenue for the musicians around here, so that's pretty sad.''
Dozens of people stayed in the area to drink and listen to live music, even as police cordoned off the shooting site, placing yellow markers where bullet casings fell.
Homicides in Mexico City have surged to record levels since 2014. Police blame much of the capital's crime on drug dealers and protection rackets run by violent gangs.