Arrests as activists clash with police in German forest
Comments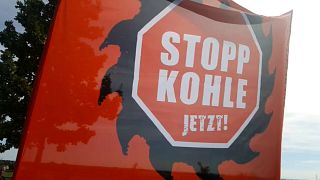 Around 4000 protesters marched to a forest in Germany on Sunday to protest about the planned expansion by one of Europe's biggest coal mines. The Hambach Forest in North Rhine-Westphalia dates back 12,000 years. RWE, who owns the land, plans to clear half of the remaining 200 hectares to mine lignite, or brown coal as it's also known
"We are protesting against the coal mining," said one man. "The coal mining is probably the most shitty way to produce electric energy. It has the most CO2 emissions, and today we are planting new trees to extend the forest instead of killing it down."
Hambach Forest is regarded as a symbol of resistance to coal and its associated impact on climate. Germany relies on lignite for 23 percent of its electricity. Activists have lived in the forest for the past six years in makeshift treehouses. But over the past few days, the police have moved in to clear them out. At least 34 were arrested on Sunday and a similar number the day before. Most were hiding in trees and tunnels.
Germany is planning to move away from coal burning to meet EU targets but its still an industry that employs 21,000 people. Environmentalists want the clearing of Hambach postponed until a decision is made by the Coal Commission in Berlin.