Europe briefing: 5 stories to know about today
Comments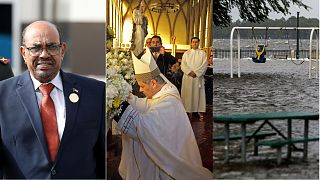 1) Hurricane Florence life-threatening storm surge
Hurricane-force winds caused by Florence hit the North Carolina outer banks and coastal southeastern North Carolina, the National Hurricane Center (NHC) said Friday, adding that life-threatening storm surges and rainfall were expected. 
Little change in strength is expected before the eye of Florence reaches the Carolina coast, with slow weakening expected after the centre moves inland or meanders near the coast, it added.
However, "more significant weakening is forecast on Saturday as Florence moves farther inland over central South Carolina."
Governor of Bank of England makes stark Brexit warning
In a warning to the British cabinet, Bank of England Governor Mark Carney told ministers, including May, that the impact of a no-deal Brexit could be as catastrophic as the 2008 financial crisis, according to The Guardian newspaper.
Britain's property market would crash and mortgage rates would spiral in the event of a chaotic no-deal Brexit, with house prices falling 35% over three years, Carney was quoted by The Times as saying.
3) British government refutes Salisbury suspects' claims
The UK government has dubbed claims by two Russians accused of poisoning Sergei Skripal and his daughter in Salisbury as "lies and blatant fabrications". The two men said they only visited the city to see its cathedral.
Police released CCTV pictures of Alexander Petrov and Ruslan Boshirov earlier this month and say the pair were behind an attack using the deadly Novichok nerve agent.
In an interview with Russia Today, the suspects claimed they visited the southern city as tourists and had stayed only briefly because of bad weather.
Petrov and Boshirov claim they are now afraid to go out after being accused by Britain of being behind the attacks.
4) Violent scenes between activists and riot police in Germany
Environmental activists clashed with police on Thursday morning as authorities tried to evict the group from a forest marked for mining. 
Officials in the western German state of North Rhine-Westphalia ordered the "illegal" treehouses in Hambach Forest to be taken down with immediate effect, citing safety concerns.
The activists were ordered to vacate the treehouses on Thursday morning, with police giving them 30 minutes before moving in.
5) Volkswagen to stop making classic Beetle car from next year
Volkswagen has announced it will stop making the Beetle car next year after nearly seven decades of production.
In a statement announcing the end of the Beetle, Hinrich Woebcken, head of Volkswagen in North America, said that as the company ramps up its electrification strategy, there are no plans to replace the Beetle.
The German automaker's last three years have been rocked by the fallout from a scandal caused by its admitted cheating on diesel emissions tests. 
Here's how events unfolded: