Italy and Luxembourg: heated clashes over migration
Comments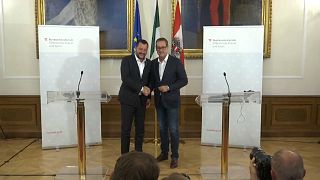 Italy and Luxembourg: heated clashes over migration
There have been more clashes over the immigration issue in Italy. In Vienna, Austria and Italy's far-right interior ministers suggested that the European Union hold migrants rescued at sea on ships for days while an initial screening of their chances of obtaining asylum is carried out.
Far-right parties like Italy's League and Austria's Freedom Party have long pushed for a system where migrants rescued from the Mediterranean be taken back to Africa.
But Matteo Salvini has compared African immigrants to slaves which enraged the Luxembourg Minister of Foreign Affairs.
They were at a behind-closed-door session at a European Conference on security and immigration.
It's smiles for the camera for the family photo of the second and final day of the conference but earlier on, it became heated between the two men.
Italian Interior Minister Matteo Salvini says, "I calmly answer your point of view which is different from mine ... If in Luxembourg you need a new immigration, I prefer to keep Italy for the Italians and start to make children again. "
Jean Asselborn, Minister of Foreign Affairs, Immigration and Asylum says, "Oh there, you are going too far!" And then he interrupts Salvini with frustration and says, "In Luxembourg, dear Sir, we had tens of thousands of Italians! They came as migrants, they worked in Luxembourg, so that you in Italy, had money for your children!"