How some Amish communities are opening up to modern technology | NBC Left Field
Comments
By NBC Left Field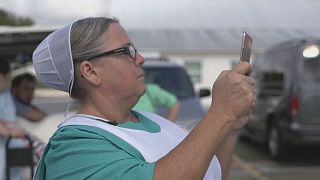 Candlelight, bonnets, horses and buggies: We have an image of Amish communities in the US as being frozen in time, stuck somewhere around 1850.
But across America, new economic pressures are leading to bold conversations inside Amish communities about how much of the outside world to let in, leading some to interpret Amish norms more liberally than ever—going so far as to embrace the internet and social media.
In an era of smartphones, iPads and wireless electricity, what does it mean to be Amish anyway?
Watch more videos below from NBC's Left Field:
More young Christians become priests and nuns
The wild route — leaving work and home for a forest life