Eurostar staff to go on strike over 'shocking' working conditions
Comments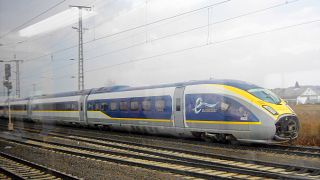 Eurostar staff at the London St Pancras terminal will strike for 48 hours at the end of the month in a dispute over working conditions, the RMT union announced on Thursday.
Station staff and train managers will go on strike just after midnight on September 30 to denounce "shocking working conditions," RMT said in a statement.
The union said the international terminal at St Pancras "has been reduced to chaos" after a spate of service problems over the busy summer period with staff left to bear the brunt of passengers' anger.
"The conditions at St Pancras have been simply appalling over the summer with dangerous levels of overcrowding on the concourse as services plunge into meltdown on the cusp of the busiest part of the year," the union's general secretary, Mike Cash, said in the statement.
"RMT will not tolerate a position where our members are left to pick up the pieces due to corporate failures," he added.
Eurostar told Euronews in an emailed statement that they are "disappointed that this action is planned."
"We are meeting with the RMT next week to discuss this further and hope to find a solution," the company added.