Chemnitz protester jailed over Hitler salute
Comments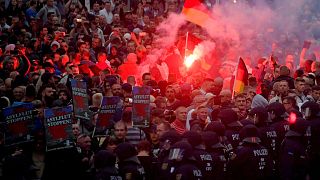 Copyright

REUTERS/Matthias Rietschel/File Photo
A German court on Friday handed a five-month jail sentence to a 34-year-old man who performed the illegal Hitler salute during a protest in the eastern city of Chemnitz late last month.
The decision marked a more severe verdict than the suspended sentence given on Thursday to another suspect who had performed the Nazi greeting during the rallies.
A spokesman for the district court told regional broadcaster MDR that a prison sentence was given on Friday because the man had a string of previous convictions, including for assault.
Thousands of demonstrators had answered a call by the far-right party AfD and the Islamophobic PEGIDA street movement to rally over the fatal stabbing of a German man.
Two asylum seekers, a Syrian and an Iraqi, have been arrested in connection with the killing, while police are still searching for a third suspect, who is also a migrant.
During mass anti-migrant protests, a handful of people were seen making the salute, which is outlawed in Germany along with the display of Nazi emblems.