Watch again: Euronews journalists discuss social media and the far-right in Europe
Comments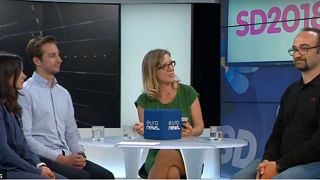 Debate over the rise of populism and the far-right in Europe has heightened in recent weeks amid anti-migrant rallies in the German city of Chemnitz and significant gains for the Sweden Democrats in the country's election on Sunday.
But how significant is the rise of populist and far-right movements in Europe, and what role does social media play?
Euronews journalists broke down the topic, discussing issues including the alleged spread of "fake news" in the run-up to the Sweden vote, hate speech and racism across Europe, and ways populists in Italy and Hungary utilise social media.
You can re-watch their discussion in the player above.