Exclusive poll: What do Hungarians think of the European Parliament's vote to trigger Article 7?
Comments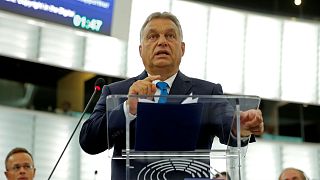 Copyright

REUTERS/Vincent Kessler
Most Hungarians think the European Parliament's decision to trigger Article 7 disciplinary procedures against Hungary was fair, according to an exclusive Euronews poll.
The poll, conducted for Euronews by Pulzus, saw 56% of 800 respondents answer "yes" when asked if the European Parliament's decision on the so-called Sargentini report was fair.
Just 24% responded "no", while the remaining respondents were unsure or gave a different answer.
Article 7 is the EU's punishment clause, allowing it to discipline member states when there is a "clear risk of a serious breach" of the bloc's core principles.
The motion to trigger the so-called nuclear option was prompted by a report by Dutch MEP Judith Sargentini into Hungary and Prime Minister Viktor Orban's Fidesz party.
The report cites migrant abuse, press freedom and corruption among alleged breaches of EU values.
In a second question, participants were asked if they saw the European Parliament's decision as being on the whole country or only on the acts of the Hungarian government.
Some 53% of respondents said it was only about the Hungarian government, while more than 12% saw it as being about the whole country, and 16% thought it was about both.
A representative sample of 18 to 49-year-olds across Hungary took part in the poll, which was completed via a smartphone app.
Hungary has said it will seek legal ways to challenge the European Parliament vote.
"This decision was born through fraud and in a way that goes directly against and contradicts the provisions of European contracts," said Hungarian Foreign Minister Peter Szijjarto.