Show of force by Russia military on exercise
Comments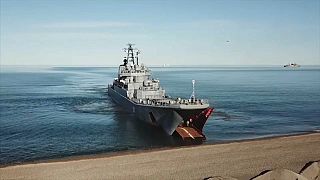 Russia has begun its biggest war games since the fall of the Soviet Union. Three hundred thousand troops are involved in the joint China and Russia drills close to the Chinese border.
The show of force was broadcast displaying columns of tanks, armoured vehicles and warships on the move, and combat helicopters and fighter aircraft taking off.
Vostok-2018 comes at a time of heightened tension between the West and Russia, and NATO says it'll monitor the exercise closely as will the United States.
Sergey Kuryshkin, colonel, head of the military-space forces combat center says, "The full extent of what we see is that today our enemy is represented by concrete targets, which we have made and launched ourselves, targets that were created for the air defence system of all the sounds, heights and speeds, and the most exclusive thing is that all of these targets are twice or even three times more effective in their characteristics than the ones that our enemy possibly has now".
The exercise involves deploying additional forces to Russia's far east and a naval build-up involving its Northern and Pacific fleets. The location, 5,000 km's east of Moscow, means Japan, North and South Korea as well as China and Mongolia will keep an eye on what's going on. But the Ministry of Defence says the main aim is to check the military's readiness to move troops to large distances and to test how closely infantry and naval forces work together.
Galina Polonskaya, Euronews reporter says, "The journalists who gather here from around the world, are asking themselves - what kind of scenario is Moscow using for these exercises. The military officials say this is a test of the country's defense capability but many analysts say that this training is happening at a world war scale".