Europe briefing: Six stories to know about today
Comments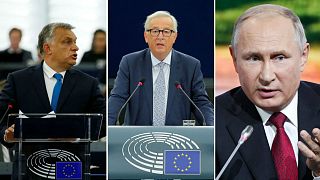 State of the Union address
Jean-Claude Juncker has delivered his last State of the Union speech as President of the European Commission.
In his fourth annual address, Juncker emphasised that the UK would remain a close partner to the EU but would not enjoy the same privileges of being a full member after Brexit.
He proposed to top-up border security with an additional 10,000 European border guards by 2020 and demanded European countries show "more solidarity" in dealing with migrant arrivals on the continent.
"We cannot continue to squabble to find ad-hoc solutions each time a new ship arrives," he said.
A full summary of his speech can be found here.
Article 7 latest
The European Union parliament will today vote on whether to trigger the rule of law procedure against Hungary for undercutting democracy and breaching "common values of the EU".
A report, drawn up up by Dutch Green MEP Judith Sargentini and backed by the European Commission, condemned Prime Minister Viktor Orban's government for abusing human rights and mistreating Roma communities, and recommended that Hungary be sanctioned.
The vote is due to take place at the European Parliament building in Strasbourg later today.
Putin: Novichok suspects are 'civilians' and there's 'nothing criminal' about them
Russia has found two men implicated in the poisoning of a former Russian spy and his daughter in the UK, according to Vladimir Putin, but they are "civilians" and there's "nothing criminal" about them.
Speaking at an economic forum in Vladivostok, the Russian President said he hoped the men, identified as Alexander Petrov and Ruslan Boshirov by the British authorities, would "come forward and tell their own story".
UK security officials believe the men operated under aliases and those are not their real names.
They have been accused of trying to murder former military intelligence officer Sergei Skripal and his daughter Yulia in March with a military-grade nerve agent.
The UK is 'not an ordinary third country' - EU Official
An EU official with ties to Brexit negotiations has said the UK "will never be an ordinary third country for the EU" when it leaves the bloc.
Speaking ahead of European Commission President Jean-Claude Juncker's State of the Union speech on Wednesday, the unnamed official however went on to dismiss suggestions that the EU were softening their position head of Brexit talks in Austria next week.
He also added that postponing Britain's exit from the EU beyond March 29 to avoid a "hard Brexit" was "not in the real world".
British Airways data theft linked to Russian group
The theft of complete payment details from British Airways' (BA) website, in which 380,000 customers have been affected, has been linked to a Russian group.
In a report published on Wednesday, security researchers at the company Risk IQ told the Times newspaper that the "Magecart" group "set up custom built, targeted infrastructure to blend in with the BA website specifically and avoid detection for as long as possible".
They added that the collective carried out a similar raid on Ticketmaster in June, obtaining the details of 40,000 customers.
Other experts told the Times that the breach could therefore have been prevented, as Ticketmaster's hacking was publicised in July, weeks before the BA breach between August 21 and September 5.
New York overtakes London as world's top financial centre
New York has overtaken London as the world's most attractive financial centre, a survey said on Wednesday.
New York took first place, followed by London, Hong Kong and Singapore in the Z/Yen global financial centres index, which ranks 100 financial centres on factors such as infrastructure and access to high quality staff.
The news comes as Britain's decision to leave the European Union in 2016 has prompted banks, including Barclays and Deustche Bank, to shift jobs out of the city to preserve access to Europe's single market after it leaves the bloc in 2019.
As it happened on Wednesday, September 12
This is how we covered key developments this morning: