5 things to know about Juncker's State of the Union speech
Comments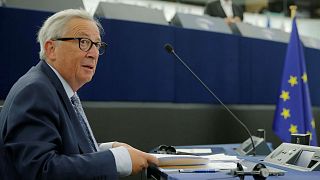 Juncker gives under-pressure May a Brexit boost, backs Ireland
EU chief Jean-Claude Juncker has used his State of the Union speech to hand an olive branch to the under-threat British prime minister, Theresa May.
He told MEPs that Brussels agreed with part of May's Chequers plan for leaving the bloc: that the starting point for a future partnership should be a free trade area between Britain and the European Union.
It comes as MPs in May's Conservative Party are reported to be plotting to replace her amid frustration over her Brexit proposal.
Juncker also made it clear that Brussels was now showing loyalty to Dublin over London regarding the Irish border problem.
"It is Brexit that risks making the border more visible in Northern Ireland, it is not the European Union," he said.
Juncker pledges to improve EU border force
Juncker used his speech to tackle an issue that dominates politics across Europe: illegal immigration.
He says the European Commission wants 10,000 extra border guards to help better control who comes in and out of the bloc.
But a lot of what he said on immigration wasn't that new.
He again spoke about improving the return from Europe of migrants that have had their asylum applications rejected.
There are no figures available for this year but latest data shows the number of returnees fell in 2017 compared with 2016.
Juncker wants a new relationship with Africa
Let's start building reciprocal relationships with Africa instead of just handing out aid, Juncker effectively told MEPs on Wednesday.
"We need to invest more in our relationship with the nations of this great and noble continent," he said.
"And we have to stop seeing this relationship through the sole prism of development aid. Such an approach is beyond inadequate, humiliatingly so.
"Africa does not need charity, it needs true and fair partnerships. And Europe needs this partnership just as much."
Juncker called for more private investment in the continent and signalled he wanted a Europe-Africa free trade deal.
Juncker calls for a stronger voice for EU foreign policy
There was a sense of frustration in Juncker's speech over the EU not speaking with one voice when it comes to some aspects of foreign policy.
He said there were instances when one EU member state had vetoed the bloc's position and rendered it silent on particular issues.
Juncker called for qualified majority voting to be introduced in specific areas like human rights, to help solve the problem.
"We must improve our ability to speak with one voice when it comes to our foreign policy," he told MEPs.
"It is not right that our union silenced itself at the United Nations Human Rights Council when it came to condemning human rights abuses by China. And this because not all Member States could agree.
"This is why today the Commission is proposing to move to qualified majority voting in specific areas of our external relations."
Juncker tries to check the surge of nationalism
One of the biggest threats to the European project in recent years has been the spread of populism and nationalism across the continent.
Wednesday's speech saw Juncker try to keep a check on its growth by linking patriotism and Europe.
"To love Europe, is it love its nations," he said. "To love your nation is to love Europe."
"Patriotism is a virtue. Unchecked nationalism is riddled with both poison and deceit."
One of his key rivals, Brexit architect Nigel Farage, used the debate after the State of the Union speech to accuse Juncker of failing to acknowledge the "populist revolt" across Europe that wants to resist his bid to centralise more power.
Speaking of Farage, he gave Juncker a surprise gift ahead of the EU leader's address, as the two shared a warm exchange. The gift turned out to be none other than Union Jack socks.