Juncker's speech: reactions between applause and boredom
Comments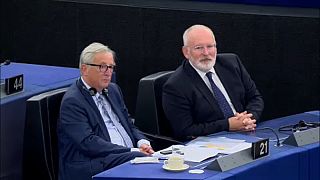 Jean-Claude Juncker's speech was met with mixed response in the chamber - between applause and boredom.
On migration, the socialist chair, German MEP Udo Bullmann, wanted more action.
"We say it's a scandal what we witnessed again this summer in the Mediterranean, it's disgusting to see people drowning, even that the ofifical mission of the EU does not have any safe harbours any more because of the Italian government... And this is the mission of the Commission president."
The battle over nationalism and populism got heated. Responding to a right-wing Polish MEP, the Belgian Liberal chair Guy Verhofstadt had this to say.
"You say you are from a different world from Mr Juncker, very well, but don't say things that are completely crazy in a continent that has seen 20 million deaths and victims because of nationalism and populism as you defended today."
While on Brexit, Juncker's potential successor, Manfred Weber from Germany, had a warning for Britain.
"London cannot give us a clear answer. So the EU is united, and London is in trouble."