Watch live: Thousands march in Barcelona for Catalonia National Day
Comments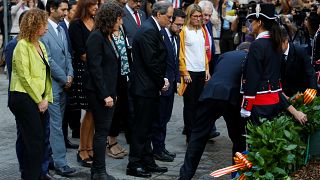 Hundreds of thousands are expected to march in Barcelona on Tuesday for Catalonia National Day, or "La Diada", under the slogan "Let's build the Catalan Republic!".
The annual festival commemorates the fall of Barcelona during the War of the Spanish Succession in 1714, and the subsequent loss of Catalan institutions and laws in Spain.
But the day-long event has also become representative of the region's independence movement in recent years.
Catalan Regional President Quim Torra also attended a flower-laying ceremony in the region's capital city earlier on Tuesday.
He appeared alongside members of his cabinet and the Mossos d'Esquadra — the Catalan regional police — who donned gala uniforms for the occasion.