Russia holds biggest military drills since Soviet era
Comments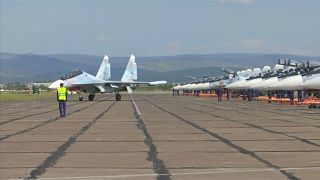 Russia has started its biggest military exercises since the collapse of the Soviet Union.
Moscow sent some 300,000 troops to join the Chinese Army near the countries' border on Tuesday. Up to 1,000 Russian military aircraft, two naval fleets and all Russia's airborne units are also on show.
Joint military drills are not uncommon but are rarely seen on such a large scale.
Named Vostok-2018, the rehearsals aim to check the readiness of the Russian armed forces. They also serve as an exercise in 'military muscle-flexing' to Russia's global rivals.
Amid growing recent tensions between Moscow and the West, NATO has said it will monitor the drills closely. Eastern powers such as Japan and North and South Korea are also likely to have a keen eye on proceedings.